Today I'm linking up with Christina from
Carolina Charm
for "Five on Friday"
Check out the link up below.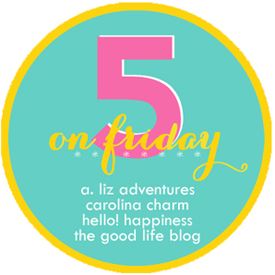 [one] It's only two weeks and two days away until we find out the gender of the little babe growing in my belly and I can't believe how time is passing so quickly. It seemed like forever ago that we originally scheduled our anatomy scan and now the day is fast approaching. J and I both have our opinions about who this little one is going to be and we've gotten guesses from a handful of our friends too and as it stands right now, we're basically split equally for team pink and team blue. Anyone else want to take a guess?
[two] Spring weather has definitely made it's presence known the last week or so and even though the evenings still get quite cool, I'm happy the seasons are starting to change. We've been working in the yard prepping for the summer and I hope that our efforts will pay off. Last year the previous homeowners stopped taking care of the yard once the house went under contract so we were left scrambling trying to revive brown grass with basically no landscaping. We made some major improvements last year putting in lots of new shrubs and perennials as well as a flag stone patio so this year is already off to a better start. Now if only we can get the grass growing so we have a beautiful, lush lawn then we'll be all set!


[three] Believe it or not, there was nothing on my schedule on Tuesday related to school so a few of my favorite med ladies and I took the opportunity along with the gorgeous weather to spend some time outside being "normal people" for a day. We headed west, back towards where I grew up, and went for a hike at Red Rocks. In all the years I've lived here I've actually never hiked there which surprises me. I've been for concerts, it's where we did our engagement pictures and we've taken guests just to look around but I didn't realize there were such great trails throughout too. After our hike (where I only asked for a break for my growing belly once!) we headed into the little town of Morrison and enjoyed Mexican food on the rooftop patio of The Morrison Inn. It was a fabulous day indeed!
[four] J is taking his first business trip back to San Diego since we moved almost a year ago. He's going to be gone for a whole week and I'll definitely miss him like crazy. Thankfully my mom lives so close and has offered to feed me while he's away. Somehow medical school has made everyone think I can't cook anymore and I'll starve without him here but hey, I can't complain. We have a whole slew of meals lined up that J never wants to eat/make and I'm looking forward to spending some time with my momma in the evenings.


[five]
I've started brainstorming nursery ideas for a little while now and I think J and I are officially on the same page. We both believe so strongly in education and want the baby's room to be a place that's not only fun but also a place we can teach numbers, sit down to read and enrich our first born's life as much as possible. We're still working on all the details but I'm envisioning a big map on the wall
(possibly as the centerpiece behind the crib)
, shelves and shelves of books that little hands can reach, science themed art prints, an adorable numbers mobile or a big abacus on the wall and lots of bright colors.
Happy Friday!