Today I'm linking up with Christina from
Carolina Charm
for "Five on Friday"
Check out the link up below.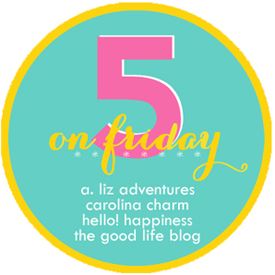 [one] I've been obsessed with drinking tea at night for the last few weeks. I think it all started when the state of CO was absolutely frozen (as in -15 degrees) recently and I was thirsty but wasn't about to drink anything cold. I've always liked lemon and mint teas but my newest favorite is Bigelow Orange Spice. Wrap me up in a blanket, give me a toasty mug of tea and I'm much more content spending my evenings in the cold office studying.
[two] With my first semester of medical school so close to being done it just seems fitting that this morning's exam was the worst one yet, doesn't it? And even worse is that I studied my bum off for this one. I would be much less worried about it if I knew I didn't put in the work that I should have but that's not the case today. Fingers crossed that scores are released soon and it's not as bad as I'm thinking.
[three]
At the last minute Christmas cards seemed to be a good idea. After receiving our first few from friends I was feeling a bit bummed that we weren't sending them this year. So instead of just chalking it up to being busier this year, I quickly make a custom design with a year-in-review update on my computer. I had them printed through Walgreens since I didn't have time to wait for them to be shipped and I'm very happy with how they turned out given the last minute nature of them. Here's a sneak peak!
[four] We are hosing a White Elephant party tomorrow night for some of my favorite med school ladies and their significant others. Only the girls are participating in the gift exchange since we knew we wanted decent gifts and shopping for gender neutral items is hard. There will be spiked apple cider, possibly some holiday themed games and lots of tasty treats.
[
five]
Speaking of tasty treats, my contribution for tomorrow's party are these
Red Velvet Shortbread Cookies
. They're perfect for a holiday party, covered with festive sprinkles and dipped in white chocolate. Can you get much better than that?! Hopefully everyone enjoys them!
Happy Friday and happy weekend!